GrindTec 2018 in Augsburg: Hermes Schleifmittel GmbH presents smart grinding solutions for industrial customers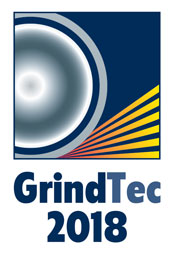 Under the motto "The One-Stop-Solution", Hermes Schleifmittel GmbH will show its comprehensive and widely diversified product range of precision bonded and coated abrasives at the GrindTec 2018 trade fair in Augsburg from 14 to 17 March.
The focus is on product innovations and further developments. For example, we will show innovations such as fine grain grinding tools with which improved surface qualities can be achieved with Rz values < 1 µm or the new CR 476 J ceramic grain abrasive belt from the CERAMIT product family, which demonstrates its strengths particularly in the robotic grinding of contoured workpieces.
Hermes Schleifmittel GmbH will also present intelligent Hermes CBNi grinding wheels with an integrated RFID chip at booth 3008 in hall 3 under the slogan "Industry 4.0". These grinding tools correspond continuously with the correspondingly equipped grinding machines of our customers in order to guarantee the optimum operation of the grinding process at all times. The manufacturing process is therefore more efficient, more economical and safer, which results in a sustainable competitive advantage.
In addition to Hermes experts from sales, application technology and research & development, members of the Hermes management will also be available for face-to-face discussions during the entire trade fair.
Dr. Tim Göttsching, Head of Industry Management Bonded at Hermes, will give a presentation on the digitization of the grinding process with intelligent grinding tools at the GrindTec Forum in Hall 5. The presentation is free of charge. The exact time of presentation will be available on the fair's website from the end of January.
We are looking forward to seeing you in Augsburg.